SEE the UPDATE NOTICE at the end of the post! 
So thrilled to welcome you to the 2018 Piano Camp for Piano Teachers with a theme on an all-too-important topic for piano teachers – "Practice." This year's event "Power UP Practice!" will come to you via WEBINAR with VIDEO REPLAYS complete with LIFETIME ACCESS! This may be the first conference ever to focus solely on aspects of practicing and the related issues we teachers deal with each and every day.
The 2018 Piano Camp for Piano Teachers will showcase 6 different clinicians who will deliver lectures on practice strategies, techniques, motivation, incentives, mindset, modes of communication, and much more!

You'll have a chance to interact with these clinicians and other participants, ask questions, plus….there will be door prizes for LIVE attendees. Even if you can't attend the LIVE webinars, you'll receive access to the replays and we'll have a digital goodie bag saved for you.
Attend the webinars LIVE on July 26 and 27, 2018 via your computer or mobile device AND/OR watch at your leisure later on your own time with no expiration!
Yes! I'll RESERVE my SEAT NOW!
---
BUT WAIT! Did you miss last year's Piano Camp for Piano Teachers with the amazing Marvin Blickenstaff?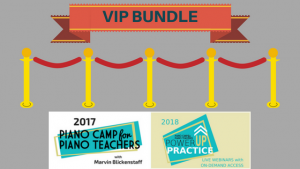 You can sign up for the the NEW 2018 VIP Bundle! and receive instant online access to Marvin's online camp today PLUS receive the "2018 Piano Camp for Piano Teachers – Power UP Practice!"  – both at the discounted rate!  View the bundle HERE (and it's available on split payments!).
---
UPDATE! The LIVE webinars have concluded and were just amazing.  Teachers LOVED the sessions and walked away with new tips, tools, and techniques to boost "practicing" with their students and parents!  To celebrate, we've extended the PRE-REGISTRATION to MIdnight Central, August 1!  Grab it before it goes away.  You won't be disappointed! 

 Committed to your success!
Elizabeth