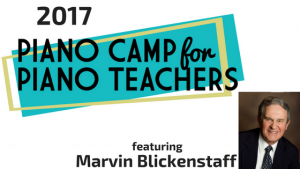 So excited to announce our guest clinician for this year's Piano Camp for Piano Teachers, the highly sought-after and beloved Marvin Blickenstaff!  For years Marvin has been providing teachers worldwide with insightfully creative, thoughtful teaching techniques that just work and he's the one they flock to for workshops, lectures, and master classes.
Now you can see Marvin in-person at the 2017 Piano Camp for Piano Teachers in the lovely San Antonio, TX or at home via your computer!
JOIN US on Friday, June  30, 2017 at RBC Pepper South Texas in San Antonio (formerly RBC Music Company) if you would like to see Marvin in action, ask him questions, and share a lovely lunch with him. OR…..Join him via your computer or mobile device beginning on/around July 10 and watch the videotaped lectures from that day.  All participants, both LIVE and online, will have access to the recorded version of the workshop (4 sessions) thru December 31, 2017.
Click HERE to view all the details plus the workshop topics. You may early-bird register NOW for either the LIVE workshop on June 30 or the online version.  Early bird pricing goes away on June 20, so grab your seat!
******IN-PERSON participants: I really do urge you to book early. Seats are truly limited due to the filming crew that will be on site. All of you will have a chance for Q&A with Marvin, and the door prizes are looking quite mah-velous, too!

Look forward to seeing you in person on June 30 or ONLINE!