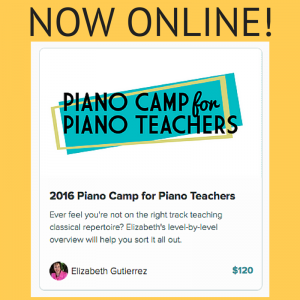 So THRILLED to announce that the ONLINE version of the June 24 Piano Camp for Piano Teachers (Houston, TX) is now available for those who could not make it to the LIVE event.
Here's what's included: 
Five intensive sessions (7+ hours of video) outlining a logical teaching order of standard piano literature, Baroque to Contemporary, from the late elementary to early advanced levels.
Demonstration of example repertoire.
Useful teaching tips and techniques you can take right to the studio.
Handouts to inform you what to teach at each level.
PDF guides to help you match method books and repertoire collections to each level of study.
You will have LIFETIME ACCESS to this course and all content upgrades added in the future. View on a desktop computer, laptop, or mobile device.  No special software required for viewing.

---
A glimpse of the curriculum below.  Click HERE to see the contents and watch a FREE PREVIEW! (see the module entitled "Presentation of Intermediate Pieces by Era – Romantic/Modern")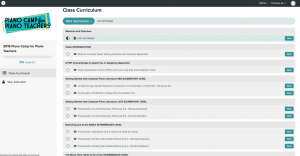 See you on the inside!
---
What teachers are saying:

"I have watched about half of the videos and printed the handouts and can tell everyone that a LOT of work has gone into this Camp. If you are getting your repertoire lists ready for the fall and wanting a good sampling of classical pieces, this is the place to go. It is complete with an extensive list divided by levels and Elizabeth plays a sampling of most of them. The handouts include musical examples also."
Lizbeth Atkinson – Columbus, OH
"I have enjoyed and benefited from the videos so much. I enter my students in our state program each year. Our state has 12 levels similar to Jane Magrath but 12!!! It has really been hard for me since my college back in the 70's did not have a good pedagogy class. Thanks for your consideration!"
Betty Lawson – Tucson, AZ