Join in for FREE Webinars on Tuesday mornings!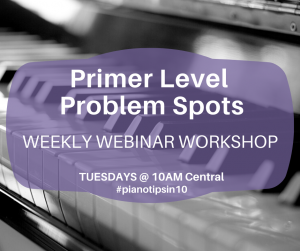 We resume Nov. 12 with this new topic – the invisible primer pitfalls that can catch you off guard. Click to access the LIVE webinars or REPLAYS!
Fun NEW Cross Stitch Pattern! Learn to Stitch it with Elizabeth!
Need Help Teaching the Classics?
Search the Blog
Facebook
Search for Music
Sponsors
Grab Our Buttons

<div class="piano-play-along" style="width: 125px; margin: 0 auto;"> <a href="http://pianoteachercamp.com" rel="nofollow"> <img src="http://pianoteachercamp.com/wp-content/uploads/2014/07/PianoPlayAlong-button_125.jpg" alt="Piano Play Along" width="125" height="125" /> </a> </div>