BEST IDEAS Webinars have launched! REPLAY of Webinar 1 here + show notes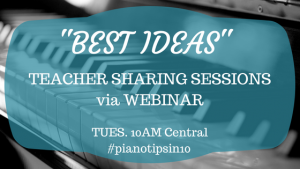 This past Tuesday, Oct. 17, 10AM Central, we kicked off a NEW #pianotipsin10 live broadcast series entitled "BEST IDEAS" to bring like-minded piano teachers together in the spirit of "community." With all the tragedy that's been happening around us, I believe there is a need for us to gather and support each other as independent teachers, share ideas, partner, etc. in a effort to be successful in our ability to change lives for the better.
JOIN US on TUESDAYS at 10AM Central for a LIVE BROADCAST via webinar where teachers share studio ideas, strategies or trade secrets.  FACE to FACE with you! 
CAN'T MAKE IT at that time? Everyone who registers for a TUES. webinar will automatically receive the REPLAY link afterwards.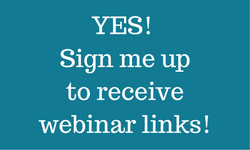 DID YOU SAY "REPLAY?"
This week's webinar on Tuesday, Oct. 17, was a hit!  View the REPLAY below.   Spoiler Alert:  Time-sensitive info is inside the REPLAY below.  Summer pricing for Marvin Blickenstaff's ONLINE summer Piano Camp for Piano Teachers (bundle of 4 video sessions) ends FRI, Oct. 20 at midnight central!  Take a PEEK at the online camp HERE.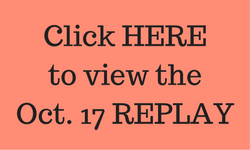 SHOW NOTES:  
 09:30:  Elizabeth Gutierrez presented a Music History idea with student incentives.  Read all about the Piano Explorer magazine for kids HERE.
 21:14:  Mandy Facer presented her Cherub Club (Star Challenge). Here are the titles of each level in her challenge with the criteria.  Beside a few levels are the checklists of "SHOW and TELL" questions she asks of the students.  Yours to keep.  Thanks, Mandy!
Protostar (Primer to 1A)
Lucky Star (1A-1B)  Lucky Star to Rising Star pdf
Rising Star (1B-2A) Grade 1 Theory (taken from the Texas MTA Theory Syllabus)  Rising Star to Twinkling Star pdf
Twinkling Star (2A-2B) Grade 2 Theory  Twinkling Star to Shining Star pdf 
Shining Star (2B-3A) Grade 3 Theory Shining Star to Guiding Star pdf
Guiding Star (3A-3B) Grade 4 Theory
Texas Lone Star (3B) Grade 5 Theory
Flaming Star (4) Grade 6 & 7 Theory
5-Star Performer (5) Grade 8 Theory
SuperStar Performer (6) Grade 9 Theory
Celestial Star Performer – Grade 10 Theory
Eternal Star Performer – Grade 11 Theory
Quasi-stellar Performer – Grade 12 Theory
          3. 36:40:  Lizbeth Atkinson presented Elissa Milne's 30/40 Piece Challenge in depth, offering us unique ways to adapt it to our personal liking.  Here are her notes including the LINKS to everything she mentioned in her session.  Yours to keep.  Thanks, Lizbeth!
30 Piece Challenge Presentation Notes
More about Elissa Thanks to Elissa for her contribution and permission to post!
P.S.  Info on the T-shirts seen on the webinar are forthcoming!
REGISTER above to receive the WEBINAR or REPLAY links because future replays won't be posted on the blog!
 Now let's have some fun on Tuesdays, shall we?  See ya there!
If you enjoyed this article, Get email updates (It's Free)