Benda's "Sonatina in A minor": LIVE Student Performance on PERISCOPE!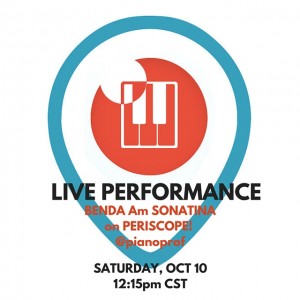 To celebrate the close of the BENDA A minor Sonatina PIANO PLAY-ALONG, join us on PERISCOPE for a LIVE student performance and interview- SAT, Oct 10, 12:15 Central Time. Learn about the student's perspective of this piece and see him in action. He'll take your questions LIVE. You must download the PERISCOPE app on your mobile device in order to interact with him. Once you do, FOLLOW @pianoprof and set notifications to ON. *** If you miss it, the REPLAY will be available for 24 hours on your device.
QUICK PERISCOPE  HOW-TO:
Download the FREE Periscope app on your mobile device – cell phone or tablet.  Go to the Apple store or Google Play to download the app.
Use your cell phone# or your Twitter account to sign up.
Set Notifications to "ON."
Create your account and choose your @name.
Post a photo of yourself and bio on your profile later if you prefer.
Search for Elizabeth Gutierrez or "@pianoprof88"  and FOLLOW.
Whenever I start a broadcast, you'll hear and see a little tweet alert on your device.  You may REPLAY the broadcast later, but it expires after 24 hours.
Without the mobile app, you may view LIVE on the web here — www.periscope.tv/pianoprof88— but you receive an alert or be able to chat with everyone. REPLAY is available for 24 hours.
FOR ADVANCE NOTICE of FUTURE #PIANOSCOPES (piano teacher workshops on Periscope), go to the SIDEBAR just to your right and LIKE the Piano Camp for Piano Teachers FACEBOOK page.  In the LIKE area, choose GET NOTIFICATIONS.
That's it!  See you Saturday on the #pianoscope!
If you enjoyed this article, Get email updates (It's Free)