NEW! Gutierrez Piano Music is Now on the Blog!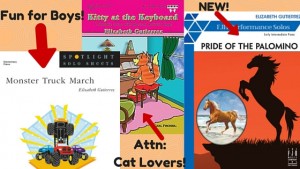 Teachers have been asking me to place all my educational piano pieces in one place on the blog and finally it's done! When you click on SHOP on the menu above, you'll see 3 categories: Ebooks, Sheet Music, and Sheet Music Downloads.
Under SHEET MUSIC, you'll see all the hard-copy material published under my name — sheet solos, collections, and one reference book. You can click each title and read a description of the work and see a page view in most instances. So have fun browsing and if you find something of interest to you, you can certainly order direct from the blog (via Sheet Music Plus), but I urge you to order copies from your local sheet music retailer. Please support them whenever you can. They are such an important asset to the future of music in our communities and we need to keep them in business.
Stay tuned for upcoming Ebooks and Sheet Music Downloads. I'll reveal those goodies soon. Be sure to subscribe to the blog off to right to stay updated.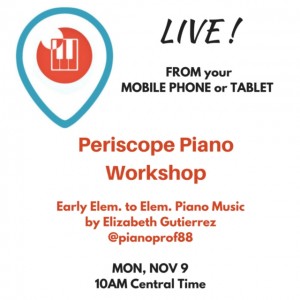 To celebrate the launch of the SHOP, I'll be doing a LIVE Periscope Piano Workshop on Monday Nov. 9 at 10:00am CENTRAL featuring my early elementary and elementary piano pieces.  A few have been listed on the NFMC Junior Festival list before and are perennial favorites with boys especially.  I'll play the pieces, discuss the principle teaching concepts for each, and tell you when you could introduce them if you're using one of the popular piano methods.
WHAT'S PERISCOPE, did you say? — it's a new app for Android and IOS phones and tablets that allows you to watch LIVE broadcasts for free.  You download the FREE app, create a quick profile for yourself, and "follow" a few folks whom you'd like to view whenever they broadcast.  And you can broadcast too!
TO JOIN PERISCOPE:
1.   If you're on your mobile phone or tablet right now, click on the little "pianoprof88" button off to the right on the sidebar and it should take you to the Periscope app for download and then you can "FOLLOW" me.
or

2. Download the FREE Periscope app on your phone or tablet from the App Store (iPhone) or Google Play (Android).  Use your cell phone# or your Twitter account to sign up (use Twitter if you have it).  Set Notifications to "ON."  Create your account and choose your @name.  Post a photo of yourself and bio on your profile when you get the chance.  Search for me "@pianoprof88″  and FOLLOW.  Whenever I'm about to broadcast, you'll hear and see a little tweet alert on your device.
See you on the scope!
Side Note: To those of you who are already following me on Periscope, please follow me now on @pianoprof88 instead of the old account @pianoprof.  I had to change to a new account for good reasons.  On Monday, I'll hop on the old account and alert you to follow me at the new account just in case.  Thanks!
If you enjoyed this article, Get email updates (It's Free)