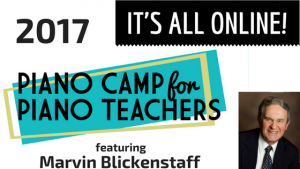 Hey there!
How's your summer been going?  Can't believe it's already August and before you know we'll be back in the swing of teaching again.  Yikes!  What happened?
Did you miss your own PIANO RETREAT this summer?  We had a fabulous! Piano Camp for Piano Teachers with the brilliant Marvin Blickenstaff on June 30 in San Antonio, TX.  If you couldn't make it or haven't yet enrolled in the ONLINE version, grab it by AUGUST 31. After that it will not be available anymore at the Camp pricing. And guess what? There's now a summer budget-friendly payment plan as well.  🙂
 Read all about it HERE.  And snag it before enrollment closes on AUGUST 31 at midnight!

It includes these 4 Video Sessions:

Warm-Ups? Who, Me? Technical Routines for All Ages Marvin Blickenstaff, presenter
Performance Practice Made Easy: Rules of Thumb for the Student Marvin Blickenstaff, presenter
A Simple Step-by-Step Start to Major Scales, All Without A Book Elizabeth Gutierrez, presenter
The End is in the Beginning: Coaching a Piece to Performance Marvin Blickenstaff, presenter
Plus…..
Downloadable handouts
LIFETIME ACCESS to the videos, in addition to any content upgrades later.
A bonus "dessert" video from Marvin.
30-day money back guarantee from date of purchase if you aren't satisfied.
View on a desktop computer, laptop, or mobile device.  No special software required for viewing.

---
What Teachers Are Saying…..


"Thank you Elizabeth, thank you Marvin – watching this conference right now on replay and finding so many teaching tips. A true gold mine of piano pedagogy wisdom. Such well spent money and time. The info is multi-level and plentiful – am going to have to write notes upon notes!"
Sarah Arnold – Brussels, Belgium

"Marvin's wealth of wisdom and knowledge is remarkable, but I equally enjoyed his humility, kindness and joyful spirit. Thank you Elizabeth for another wonderful Piano Camp for Piano Teachers. I'm especially excited that I will be able to watch the videos over the next year. You're a huge blessing to the piano community."
Ginny Godsey – San Antonio, TX
---
Did you miss last year's ONLINE Piano Camp for Piano Teachers (now a course called "Sorting Out the Piano Classics:  What to Teach and When")?  Here's your chance to enroll in BOTH the 2016 and 2017 ONLINE Camps at a very nice investment price of only $247 (w/ lifetime access).  Even better…. it too is available on a payment plan, but hurry!  This VIP BUNDLE of piano teacher education will also go away on August 31, 2017!
Click HERE to view the BUNDLE contents.
This package also includes 3 yearly Group Coaching Webinars where I answer your pressing questions about teaching classical repertoire.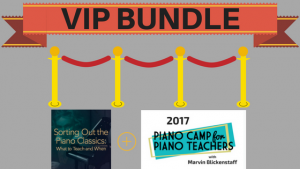 ---
See You On The Inside!