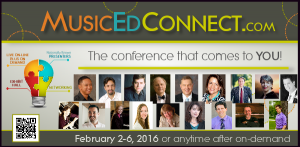 Michelle Sisler and her team have been working hard to prepare fantastic sessions and exhibits once again this year.  Looking at the presenters and their sessions, you will be truly impressed at what's planned. 26 NEW SESSIONS! including mine:
A Quick Guide to the Most Popular Piano Classics Students Love to Play
THURSDAY, FEB 4, 12:45pm to 1:45pm Central Time
by Elizabeth Gutierrez
Having a hard time deciding which piano classics you should teach and when? Do you wonder whether your students will like your selections? Elizabeth will help you narrow down the sea of choices to create a well-rounded, balanced repertoire for students of all abilities and especially those with discerning tastes.
---
 The beauty of MusicEdConnect is that all sessions will be available ON-DEMAND after the live conference dates so you can re-watch a session or view a session you missed.  While there is a specific time for each live session, you do NOT have to watch it on that date.  You may watch the 2016 sessions until December 31, 2016!
AND…..
My READERS receive a COUPON CODE! 
UPDATE:  My code has expired and if you are just now reading this post, try code "MEC1516" to save $10.  Expires Feb. 2

---
A little overview of the conference:

The conference will begin with keynote speaker, Pete Jutras, presenting "The Road Ahead."  What is the future of teaching piano and what is the best way to teach this next generation effectively?  
NEW this year, Tech Tuesday will offer a wealth of beginning to advanced technology sessions including very practical applications on a shoestring budget, how to replace that spaghetti of cords in your studio and iPad iDeas!  Also part of Tech Tuesday, are the many HOW TO 30/30 sessions on topics such as HOW TO Broadcast Your Recital Over the Internet, extend your screen, use iMovie and GarageBand.  These unique 30/30 sessions will offer a half-hour live with the second 30 minutes recorded for you to watch later when you are ready for that next step.  This will help these technical sessions be a bit less overwhelming so you can take it one step at a time at your own pace.
Wednesday, Thursday and Friday, learn how to deal with difficult parents, conduct engaging and effective studio classes, gain new sight reading strategies, understand chord symbols, perfect your teaching language, teach beginners technical movements, teach pop music, how to make the most of your lesson time especially with over scheduled students, better engage your students, marketing magic and everything in between!  And….showcases from JoyTunes, TimeWarp Technologies and Keys to Imagination.
Saturday, the networking session returns (Full Access/Live attendees only) as attendees will get to network with other attendees to give and receive great advice, all hosted by some of our presenters.
CLICK HERE for the SESSION DESCRIPTIONS 
CLICK HERE for REGISTRATION INFO (use code EG16 for $10 off)     
Look forward to seeing you there!