PERISCOPE WINNERS!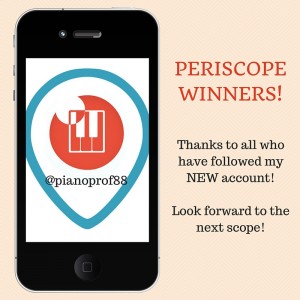 WINNERS! Thank all of you for watching my latest scope on "Elementary Music for Boys and Animal Lovers" and also for the sweet comments about my elementary solo sheets.  As promised, new followers were placed into a drawing for 2 packets of my music, one larger and one smaller.  The winners are 1. Betty Lawson and 2. Joyce Harwood!  I will get your prizes to you as soon as we connect.  Please email me at elizabeth@pianoteachercamp.com if you read this post first.
Thanks to everyone who watched, even via the web or on the replay at katch.me.  The REPLAY is still available HERE.  (and you can rewind/fast forward!)
I'm dreaming up new scopes to solve pain points for working piano teachers.  Piano teachers are some of the busiest people on the planet, so I will definitely be "katching" them for your viewing after they expire on Periscope and summarizing some here on the blog.  I'll keep some of these scopes short and right-to-the-point.
HOWEVER….. the best feature is having YOU on Periscope interacting with me and other teachers LIVE on the scope.  We all learn so much from each other, right?  So, if you haven't downloaded the FREE Periscope app (Apple or Android mobile devices), please do and FOLLOW me @pianoprof88.  My name will have a little keyboard next to it. And set your Notifications to ON.
I hope you can view LIVE from time to time.  I'll try to mix up days/times as I am able.
All best!
If you enjoyed this article, Get email updates (It's Free)