Donald Waxman's "Piano Pageants, Book 1A" Piano Play-Along: Post Four (Pages 24-35)
Enjoyed chatting with you this week about Pages 24-35 via Periscope and Facebook Live.  Hurry and add your comment on each of the 3 sections of the book HERE so you'll be entered in the FINAL GIVEAWAY on Tuesday, May 10.  *Comments are due by 8AM Central on May 10. I will announce the 3 winners that day at 10AM Central during the LIVE broadcast.  You don't have to be present to win.
I hope you've enjoyed watching the blog posts in action via LIVE video.  Sure makes it easier than writing everything I want to say!

The PDF study guide for the video below is HERE. If you don't have the book or PDF in front of you right now, it's OK.  I play through each piece on the video and you can follow along easily.

I love how the pieces develop during this last stage of the book and include some good options for festivals, contests, and recitals.  Did I mention how much I like the titles?  They're sophisticated without being too obscure and lend themselves to some teachable moments, too. What were your favorite pieces from this section of the book?  Be sure to mention them in the REPLY section below.
My students informed me that these were their favorites:
p. 24 – Balinese Serenade
p. 29 – Postcard from Italy
p. 32 – A Quiet Call at Night
p. 33 – Signals of the Mohawks
p. 34 – Etude
p. 35 – Pageantry
Definitely join us next week on the LIVE broadcast for a wrap-up of the Play-Along, final thoughts, and a little surprise announcement – Tuesday, May 10, at 10AM CENTRAL.   I would love for you to share your thoughts about the Pageants 1A book with other teachers on the broadcast, and please tell friends to come check it out.
Try to join us over on the Periscope app since it allows everyone to chat easily with each other, give hearts, etc. (the easy how-to is just below. ) We have such a nice community there, but I certainly understand if you prefer watching Facebook Live.  I appreciate your joining in from either platform!
Don't have the book yet?  See below on how to order it at a discount.  Hurry, the discount ends on May 10!  You may order any quantity of Book 1A.
---
TO BUY the BOOK at a 20% discount, go HERE.
SEE the FULL PLAY-ALONG SCHEDULE HERE.
TO VIEW LIVE broadcasts or replays on FACEBOOK:  Go to facebook.com/pianoteachercamp.  LIKE the page and sign up for Notifications (either "default" or "see first")
TO VIEW LIVE broadcasts on PERISCOPE:  The Periscope app is FREE for your mobile device.  Read about how to download it HERE.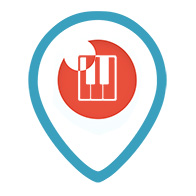 Use the little buttons at the top left of this post to SHARE with other teachers.  Several tell me how they wish they had known about a Piano Play-Along sooner!    See you next Tuesday!
If you enjoyed this article, Get email updates (It's Free)