Welcome to Piano Camp for Piano Teachers!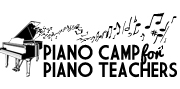 If you've found this post, you have probably just watched my webinar "Discover the Magic of Teaching Young Beginners" at the inaugural online music teachers conference:  MusicEdConnect (www.musicedconnect.com).  I hope you enjoyed it! or enjoyed your recording of it if you missed the LIVE session.
As promised, I have 2 GIVEAWAYS for all participants!  LEAVE A REPLY (see it above) and tell me what you thought of the session &/or what you thought of the conference.  Enter your reply by midnight, Saturday, Feb 8.   I'll then do the drawing and will contact the winners by email.  Winners will be announced here!
Stay tuned for more from Piano Camp for Piano Teachers.  This is just the first day of our blog so pardon our appearance!  We'll be adding more bells and whistles soon and look forward to serving piano teachers everywhere!
If you enjoyed this article, Get email updates (It's Free)