MusicEdConnect Giveaways Announced!
Hi everyone:
Once again, so glad you could all attend the 1st MusicEdConnect Webinar last week.  The feedback has been amazing and thank you again for attending my session "Discover the Magic of Teaching Young Beginners."  I had a blast meeting so many teachers this way and inspiring newbies to try teaching 5-year olds.
DRUM ROLL please…..
The 1st GIVEAWAY winner is:  Isabel M.!   She will receive a glass-blown mini paperweight similar to this: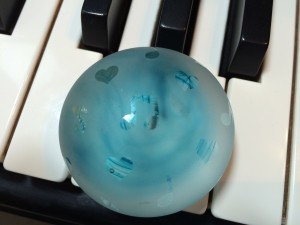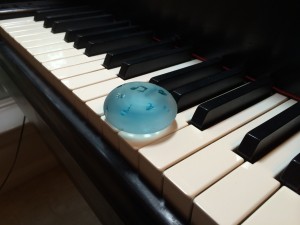 Isn't this a perfect stone for "Stone on the Mountain?"  And I think the musical notes make them even more special.  As the student shapes his/her hand on the keyboard, I slip this glass stone underneath the hand and tell the student we're checking to see if their hand really looks like a stone.  They love it and I love it when imagery comes to life.
I will share info on where to purchase these in a future blog post.
The 2nd GIVEAWAY winner is:  Renee S!   She will receive a complimentary set of books from the Faber Piano Adventures!
Isabel and Renee ~ Congratulations to you both.  I will be contacting you for your mailing addresses, but if you see this first, please email it to me at elizabeth@pianoteachercamp.com.
Enjoy!
P.S.  More to come about Nancy Faber's piano keyboard mat shown during my Webinar.
If you enjoyed this article, Get email updates (It's Free)