Bartok's "For Children, Vol. I" Piano Play-Along: Post One (Introduction)
Welcome to the Play-Along for For Children, Vol. 1, by Bela Bartok.  For more information on this play-along, check out the entire schedule HERE.
Our venture into the piano music of Bartok once again explores the influence of folk music in piano literature, and in this case, material that was intended for teaching purpose.  Throughout his life, Bartok dedicated himself to composing piano pieces for students at all levels, elementary to advanced.  His For Children, a two-volume set for elementary to intermediate pianists, is based on folk songs and dances he collected from Hungary and Slovakia.  We will be focusing on the Vol. 1 which is based on Hungarian folk melodies.
The entire set was composed in 1908-09 and later revised by Bartok in 1945 when he decided to reduce the number of pieces and provide titles for them.  Bartok marked fingering, articulation, phrasing, dynamics and metronome indications quite meticulously and is known to have worked closely with Boosey and Hawkes on the revised edition, pictured here: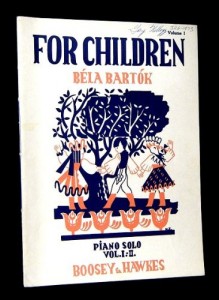 We will compare it with the 1998 revised and re-engraved edition by his son, Peter, here.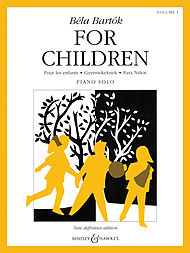 Apparently there are a few changes of notes and more dynamics added in this later edition.  The foreword by Peter Bartok might reveal some new information (at this writing, I don't have a copy in hand, but I'll remark on this later).
The For Children has been a piano teaching classic for generations and I hope you enjoy our exploration into what makes it so engaging and delightful for all ages to play.  During the Play-Along, please let us all know if you have played or taught a particular selection before and share your thoughts about your favorites and why.
Feel free to use any edition you may already have on hand.  You may certainly grab a Boosey and Hawkes copy HERE if you like, but try to support your local music store if you can.
Remember to post your reactions for the selected pieces each week through Dec. 7.   I look forward to what you have to say regardless of whether you have played or taught the pieces.  It's always great to hear fresh thoughts and reactions to new music.
Post your comments and certainly ask questions in the Reply section below or on the FB group page HERE.  I'll answer questions as quickly as I can.  And please chime in on questions, too!
Fingers ready???  Go!
Nos. 1 -5 first.  See you on the blog next Monday!
Elizabeth
If you enjoyed this article, Get email updates (It's Free)