This indispensable seems like a no-brainer, but how many of us really give our studio lighting proper attention?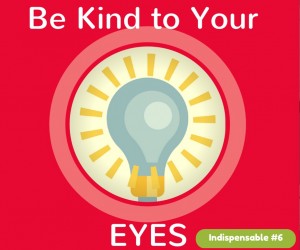 #5 – GOOD LIGHTING
I used to think that a "proper" piano lamp should be one of these: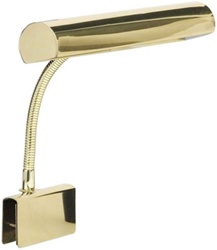 While it does look lovely on a grand piano and illuminates the music rack quite well, I later discovered just how hot these little babies get when I accidentally burned my hand on one.  Ouch!  I learned fast not to reach up and adjust it while it was on (!).
As I started adding more young students to my studio, I began to worry about their little hands reaching up to adjust it and forgetting about my warning to them about the lamp's heat, so….. I now use this one instead:
I originally purchased this compact Ottlite for my needlework (it's intended for craft work), but it's been wonderful sitting on the left side of my music rack shining clean "daylight" on sheet music.  I can see all the fine print with ease with hardly any glare and almost no heat.   And who needs more heat while teaching during a Texas summer?
I also like that this little lamp is energy-efficient and I just fold it down to turn it off like this: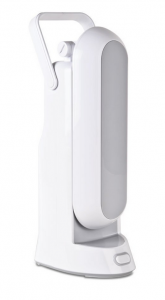 Mine can run on a rechargeable battery so I can move it around to wherever I need it, but not all styles have that feature.    It weighs only 4 lbs with a very stable base and so far it hasn't fallen over.  There are some that weigh less, and besides black or white, Ottlite offers them in some cool nifty colors.  I purchased a floor lamp style (for almost 1/2 price!) which I now use for my needlework and sewing.  Love it!
BEST PRICE:  23.68 to 49.99 for a desktop version at Amazon HERE, depending on the particular features you desire.  Joann Fabric and Craft stores has them on sale this week HERE and in their stores. The store will always honor the online price. If you miss the sale, check for weekly coupons at their site.  They come in handy! 

So do you have a particular lamp you really favor for your studio or studio piano?  Please share if so.  Remember….be kind to your eyes! And that of your students as well!