Indispensables of Piano Teaching #1 – Highlighter Tape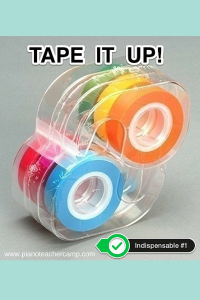 Welcome to the new weekly series "Indispensables of Piano Teaching."  Like me you probably have several teaching manipulatives, tools, gadgets, or maybe a reference book that you always find yourself reaching for during lessons.   I'll be sharing one of my "can't do without" items each week here on the blog for the next several weeks (not games or a specific activity, but an actual tool or gadget that I can't do without). Please comment if you use any of the same tools and don't hesitate to tell us how you use them in your studio.   And maybe later I'll highlight one of your favorite tools!
#1 – COLORED HIGHLIGHTER TAPE
I have found more uses for this tape than I could have realized!  It's fantastic for highlighting troublesome spots in a student's music.  You can write on it, see through it, remove it when a problem is corrected, and then reuse it!  Students love the colors (pink, green, blue, yellow, red or purple) and I find it the MOST useful in guiding their home practice.  With the tape I can highlight  specific areas I want them to correct during the week.  At home they can target these areas instantly and get focused in their practice.  I find I don't have to write measure nos. in their assignments books and can simply write things like: "See BLUE areas and check such-and-such," and so forth.  They also feel quite rewarded when the tape comes off — mission accomplished!
Highlighter tape has such a broad range of applications – the sky's the limit.  A student and I often develop a color-code system for specific problems that need attention and often we use red for those especially tricky areas that require more attention. Needless to say, I run out of RED faster than any other color!  I find that some students will ask for RED when they start to get serious about finally ridding themselves of mistakes.
Since I can use strips again and again, it's very economical and it keeps a student's music in usable condition too. Once removed, it doesn't leave a residue and I no longer see a multitude of pencil marks all over the page.  When I need to flag a page for whatever reason, I can create one quickly with this tape by folding over the top edge. I've even had students ask me for their own roll(s) of  tape for practice at home, if you can believe.  Now that's what I like to hear!
A few photos here to indicate some uses:
And the list goes on and on…..
BEST PRICE:  $3.00 a roll at TheoryTime. com and $18 for a 6-roll pack. This is where I purchase mine. I did spot some recently at a local sewing center, but I don't recall the price being $3.  I've also checked some of the big box stores in my area and cannot locate it.  Amazon couldn't beat Theory Time's price.
COUPON CODE:  As a generous favor to PCPT readers, the wonderful Heather and Ron Rathnau at Theory Time are offering you a coupon code.  Use PC4PT2015 for 10% off  at  www.theorytime.com now thru Feb 15th.  10 percent off not just the tape, but ALL products at the Theory Time website.  Be sure to take advantage of Theory Time's flat-rate shipping option.  They're great about keeping the shipping affordable.
"Thank you" Heather Rathnau for bringing this tape to my attention!  I am indebted to you!
If you enjoyed this article, Get email updates (It's Free)