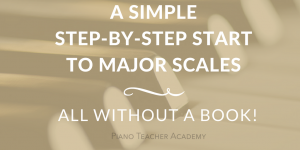 "A Simple Step-by-Step Start to Major Scales – All Without A Book" has officially launched over at the Piano Teacher Academy!  Be sure to grab the early-bird launch price before it expires tomorrow, WED, April 25, at midnight Central.  The early bird has EXPIRED, but there is a now an easy-payment plan option!
Go here to see all the details and enroll now: http://bit.ly/startscales
If you've been looking for a way to systematically introduce major scales to your students and avoid overwhelm and confusion for both you and your student(s), this course is for YOU.  In this video course I outline the approach I've honed and tailored over many years.  I find that it works quite well for ages 5 through adult and lends itself to the personal pace of any student. I've also used it many times in group situations.  It works for early-level students as well as transfers in need of remedial help and adults could easily use this video course as a self-guided program in learning scales for the first time or as a refresher.
---
NOTE:  If you purchased the ONLINE version of the 2017 Piano Camp for Piano Teachers with Marvin Blickenstaff, you already have this course in your bundle, so no need to purchase it! 
But…..I have added some bonus student videos + a week-by-week lesson assignment plan so be sure to check those out. 
---
In this video course you'll be taken by the hand and guided through the entire process.
1. I inform you exactly what elementary students should know before introducing them to major scales.
2. I give you straight-forward, done-for-you PDFs to use right in the lesson.
3. Sample student videos are included so you can view activities in action.
4. You receive a week-by-week assignment plan to guide you every step of the way. No wondering what to do each week!
Everything is laid out in a simple, easy-to-follow order.
Just a clear, simple path to starting scales with your students, young and old, with LIFETIME access so you can refer to it anytime.

If you have ANY questions, leave a comment below or contact Elizabeth at elizabeth@pianoteacheracademy.com. Standing by to help!