REGISTER NOW! With Early Bird Bonuses, too!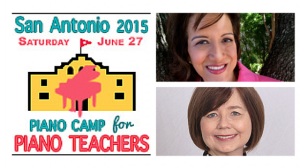 JOIN US!  – Susan Paradis and Elizabeth Gutierrez on Saturday, June  27, 2015 at RBC Music Company in lovely San Antonio, TX!
CLICK HERE for complete info, including 2 EARLY BIRD BONUSES and ONLINE REGISTRATION via credit card or Paypal.
DOWNLOAD a print version of the brochure HERE if you prefer to mail-in your registration.
Hotel info is listed under LODGING in the menu bar above.
NEED MORE INFO? – contact Jim at info@pianoteachercamp.com
RIGHT-CLICK and COPY the 2 buttons below (or drag to desktop if on a Mac) to share these on social media, your studio newsletter to parents, your email signature, etc.  We appreciate your spreading the word!
Buttons provided by the talented Susan Paradis!
And… give us some love on Instagram!  Go to @pianoprof on IG and LIKE our camp post.  We'll certainly FOLLOW you!
Hope to see ya there!
Elizabeth and Susan
If you enjoyed this article, Get email updates (It's Free)