NEW Periscope Piano Workshops Coming!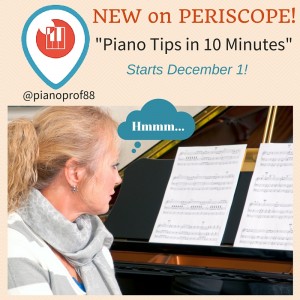 Since I began using Periscope as both a broadcaster and a viewer, I've been amazed at how this LIVE broadcasting technology brings a worldwide community together simply at the touch of a finger on your phone or tablet.  With input from a few blog followers, I've decided to start a new Periscope "mini piano workshop" series beginning on Tuesday, Dec. 1, at 10am Central Time.
I invite you to join me for #PianoTipsin10 (aka Piano Tips in 10 minutes), a weekly series designed specifically to provide solutions to pain points we often encounter when teaching.   I will offer you my own time-tested teaching strategies, but the beauty of Periscope is that we  ALL benefit from interaction with each other via the comments.  I hope we all take away fresh ideas and renewed energy.
Because we are teachers with incredibly BUSY schedules, I will limit the workshop to just 10 concise minutes on one single topic.  However after the 10 minute period, feel free to stick around a bit longer for some Q&A if you like.  Even if you can't join the LIVE presentation, the "scope" will remain on your Periscope account for 24 hours so you may view it at a convenient time later.
Here's my working list of pain points so far:
Reinforcing a Rounded Hand Position at the Piano
Collapsed nail joints
Flying pinky fingers
Accuracy with Rhythmic Subdivisions
Hands-Together Precision
Introducing Legato for the First Time
Refusal to count
and so forth……
What are the burning pain points in your studio this semester?  Please feel free to list one or two I could consider by commenting below.  The more, the better!
NEW to PERISCOPE?  
Click
HERE
to learn how to download the FREE app to your phone or tablet (available on Apple and Android) and be sure to FOLLOW my account "@pianoprof88" with Notifications ON.  You'll get a "tweet alert" when I go LIVE.  You can view it in watch-only mode on the web here: https://www.periscope.tv/pianoprof88  but I encourage you to download the app to your smartphone so you can comment, give hearts, etc.
FOR ADVANCE NOTIFICATION of my Scopes, please do one of the following:
1.  Subscribe to this blog on the sidebar to the right.
2.  Follow me on Twitter — @egpiano
3.  Visit "Piano Camp for Piano Teachers" on Facebook, LIKE the fan page, and click GET NOTIFICATIONS.
   **** SHARE this POST with your TEACHER FRIENDS!****
HAPPY THANKSGIVING to ALL!

If you enjoyed this article, Get email updates (It's Free)