NEW Piano Play-Along for September: Cast Your Vote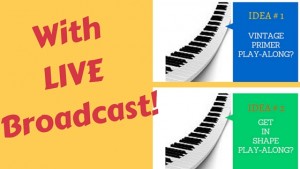 Hi everyone!
I hope you all enjoyed a great summer. Mine was busier than expected but I'm back to my usual groove and ready to start another Piano Play-Along!  Who's ready?
We're voting on topics over at the Piano Play-Along Facebook discussion group, but please vote here in the COMMENTS below if you don't belong to that group.
And SURPRISE!  This time we're going to have LIVE BROADCAST with the Play-Along.  You'll see me broadcasting LIVE on your phone or tablet and you can interact with me.  I'll show you soon how that works (so easy!) and it comes at no cost to you!
More on this later, so select from these PLAY ALONG choices by SUNDAY EVENING, Sept. 13 if you can. I'll announce the winning topic on Monday.
1. VINTAGE PRIMER Play Along – I love using certain oldie primers as supplements for my beginners and I'll give you a tour of one of my favorites.
OR
2. "GET in SHAPE" Play Along – We'll all practice a certain intermediate-level piece or etude for 2 weeks and then share our discoveries and inquiries with each other via the LIVE VIDEO chats, plus here on the blog, and maybe a little on IG.
Sound good? Are you in? VOTE for #1 or #2. Can't wait to interact with everyone via LIVE BROADCASTING!
If you enjoyed this article, Get email updates (It's Free)