Kabalevsky, Op. 39, Play-Along: Post Seven (Nos. 21 – 24 Reaction)
We're coming down the homestretch now.  Don't forget to post your final comments on these pieces or on any of the previous by July 31.  Would love to know which of the 24 are your favorites and/or new favs.  Those who post at least 3 times, either here or on the Facebook group page, go into the prize drawing on August 1.   Can't wait to see who wins!
If you missed last week's reaction post (the 6th one) on Nos. 17 thru 20, you can read it HERE.
Quick scan thoughts for Nos. 21 thru 24:
As a group these pieces are the most difficult in the set, with No. 24 rising to an intermediate level.
All are 24 mm. or longer.
More independence in the LH required especially as it performs a more contrapuntal role.
Syncopation is more prevalent.
A wide range of the keyboard is utilized throughout.
Continued complexity in opposing rhythms and articulations between the hands.
Thoughts while playing….
No. 21  – Improvisation 
Such a melancholic, misterioso piece and it does sound improvisatory with it's wandering quality.  You could call it a modern 2-part invention of sorts and it's a wonderful piece for teaching continuity and long line.  
2 interesting observations:
On page 1 (mm. 1 thru 18) the RH plays on the "and" of beat 1 in most every measure and on page 2, the LH as well.
The most intense part of the piece, at least in terms of volume and range, is in measure 11 (quite early in the piece), and yet in the following 33 measures it never reaches a dynamic higher than mp.
I especially enjoyed the hemiola effect Kabalevsky inserted here (mm. 15-16):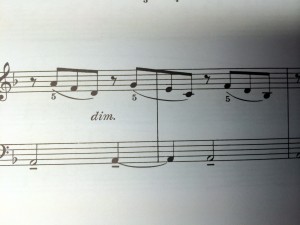 and the lovely and unexpected harmonic shift to the flat II chord here in m. 31 (E-flat major):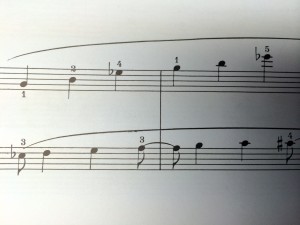 Here's a tender performance by Jason Sifford of the Univ. of Iowa Piano Pedagogy Project:
No. 22  – A Short Story (seen as "Brief Story", "Carefee", and "Novelette" in other editions)
A return to 2/4 meter again with another lonesome minor mode and this time with LH carrying the melody entirely.  With both hands in the treble clef, Kabalevsky extends the melody quite high with the RH accompaniment reaching into several ledger lines (highest range than any piece in the entire set).  Ledger line reading would definitely be a pre-requisite for students.
Kabalevsky clearly opens with the key of A minor  and then adds F# in mm.14 through 31, creating quite a color shift.  I'm unable to find a strong tonal center in this middle area, but because of the following two landmarks I would have to say Kabalevksy is leaning toward E minor:
mm. 20 – 21: 
m. 28: 
You definitely hear the modulation in process at m. 33 and then the full return to A minor in m. 38.  The key changes divide the piece nicely for practice by section.
I especially like Kabalevsky's focus on this 2nd-6th RH motive throughout. It adds some capriciousness to the lonely melody.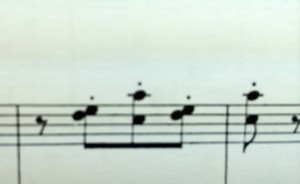 Here's another performance by Jason Sifford.  Given the Allegro assai indication, I would prefer a slightly faster tempo especially if a student could handle it.
No. 23  – Slow Waltz (seen elsewhere as "Waltz" and "A Cozy Waltz") 
The opening theme offers a bumbly waltz feeling (the outward leaps).  Perhaps a dancer with two left feet?  Speaking of left feet, it's ironic that it's the LH that's jumping all over the place in the opening measures. It helps to keep the eyes on the keyboard so I often have students memorize the opening measures as soon as possible (LH first to secure the fingering and articulation).
Students are drawn to this piece. I don't know if it's the gymnastic quality or the captivating sound colors Kabalevsky creates with the chromaticism.  Maybe a little of both.
I love helping students create a storyline to illustrate a piece like this one.   I might ask:  "What do you think happened with the dancers during the Coda (mm. 33-40).  Maybe one dancer become frustrated with the clumsy dance partner? "  "And what happened at the final cadence?  Did someone just give up and walk off the dance floor?"   Have fun with it!
No. 24 –  A Happy Outing   (also seen as "A Happy Journey," "A Happy Holiday," "A Happy Trip")
A highly rhythmic staccato vs. legato etude, the most difficult of the set, and rarely played.  The continuous bouncing staccatos of the RH against the jump bass LH make this especially treacherous.
Here's  a video demo of a student first tapping the forearm staccato to capture the feeling before he plays it.  I asked the student to be sure to always jump in the direction of the next key(s) in order to meet the target with accuracy (LH).
Below is a video of some of his practice techniques for mm. 6 – 8.  He's playing blocked pairs of notes, then breaking them.  Next he plays various finger groupings in order to secure the fingering.
We are calling this piece his "summer etude."  He likes it because it isn't too long, yet it offers a variety of technical feats.
***********************************
Yay!  We made it to the end of the Op. 39!  Congratulations to all of you who read the entire set.  How did you like these pieces?  I hope you discovered a few new favorites and perhaps some you might like to explore further with students.
Let me know your thoughts on these final four and be sure to submit your final comments by July 31 (no later than midnight).  I'll do the drawing for 5 prizes among those who commented at least 3 times overall.  Good luck!
The August Piano Play-Along topic will be announced soon!
If you enjoyed this article, Get email updates (It's Free)