Heller's "L'avalanche, Op. 45, No. 2" Piano Play-Along: Post Two (Tricky Passages )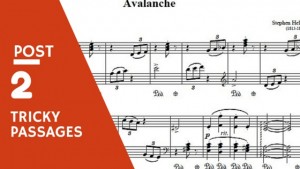 I've decided to extend our Heller "L'Avalanche" Play-Along a few more days what with the past TMTA Convention and future Piano Teacher Camp (June 27) occupying a good part of my time.  Plus…. I wanted to get a couple more IG (Instagram) mini-video tutorials posted and ask for all your input on the following:
Now that you've been playing the piece for approximately 2 weeks (shorter for some of you), what do you think is the trickiest passage in the piece? Either for you or a potential student?  Please COMMENT BELOW with measure nos.

I use the word "tricky" because I love how one of my students always uses that word in place of "hard" or "difficult."  Seems less daunting when described that way.  Of course there might be more than one tricky passage that took you some time to work out or that you estimate would be "tricky" for students.
Here's mine:
I'm fairly acquainted with this piece, but during my initial re-reading of the piece, this section caught me off-guard.  A quick insert of contrary motion can certainly cause a little stumble in the reading process.  I had to take a good look at the patterning in both hands.  It's the first time Heller has the 2 hands working in contrary motion with opposing melodic, rhythmic, and technical ideas.  On the technical side, the LH is involved is a gradual rotation downward with a more open hand while the RH is playing fast passage-work upward with a closed hand.  Tricky stuff.
Look forward to your REPLIES below!  Share so we can all compare notes….Ok?
If you enjoyed this article, Get email updates (It's Free)