Khachaturian "Adventures of Ivan" Piano Play-Along: Post One (Introduction) 
Welcome to the Play-Along for Adventures of Ivan, by Aram Khachaturian.  For more information on this play-along, check out the entire schedule HERE.
Khachaturian's eight intermediate-level pieces, Adventures of Ivan, offer a good glimpse into the beauty of his writing and the talents that confirmed his standing as one of the greatest Russian composers of the 20th century.  If you've heard his piano music before, you may have encountered the all-too-frequently-played Toccata and perhaps the brilliant Sonatina in A minor (1959), both of which still appear on competition lists from time to time and are popular with advancing students.
Khachaturian relied heavily on the folk music of his native Armenia to influence his approach.  He adored the songs and dances of his homeland and his compositions are filled with tuneful melodies that range from colorful and cheerful to quite plaintive or melancholic.  His pieces are brimming with strong character and humor portrayed often with propulsive and exciting rhythms.  Though he wrote only two volumes of  intermediate-level piano pieces (Adventures of Ivan and Ten Pieces for the Young Pianist), his small output at this level has a great deal to offer the piano student, and the piano teacher as well!
Some Background 
The one adventure with which you may be familiar is the first adventure in the set of 8 entitled "Ivan Sings" (or referred to as Andantino in some publications).  This particular piece appears in a few older piano anthologies (to be listed later) but not in the more current piano collections due to copyright restrictions.
Khachaturian composed the Ivan pieces over a period of years prior to their publication in 1948 by Leeds Music Corporation in the U.S.  "Ivan Sings" was composed in 1926.  Though it seems that Ivan's Adventures should contain a narrative of some sort, they are simply snapshots of the life of a young boy.  The titles assist the player in finding a character, mood, or expression in the music (and thus the reference to the set as "character pieces.")
My Copy
I'll be playing from the Schirmer Edition for this Play-Along, shown here. It contains the complete set of 8 pieces.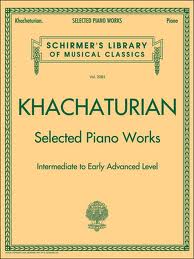 I'll compare it to the older MCA edition pictured here, which I found in my local library:
Please use any edition you may have on hand.  You may certainly grab a copy HERE if necessary, but try to support your local music store if you can.  NOTE:  After a Google search I found that a digital download is available on Scribd, but I encourage you to purchase a hard copy to have available for your students or just for yourself.
Remember to post your reactions for the selected pieces each week of August.   I look forward to what you have to say, whether or not you've taught or played the pieces before.
Along the way I'll comment on some of the specifics I notice in both the Schirmer and MCA editions and offer some insights for teaching.
Post your comments and certainly ask questions in the Reply section below or on the FB group page HERE.  I'll answer questions as quickly as I can.  And others may chime in on questions, too!
Enjoy learning more about this imaginative set!
If you enjoyed this article, Get email updates (It's Free)